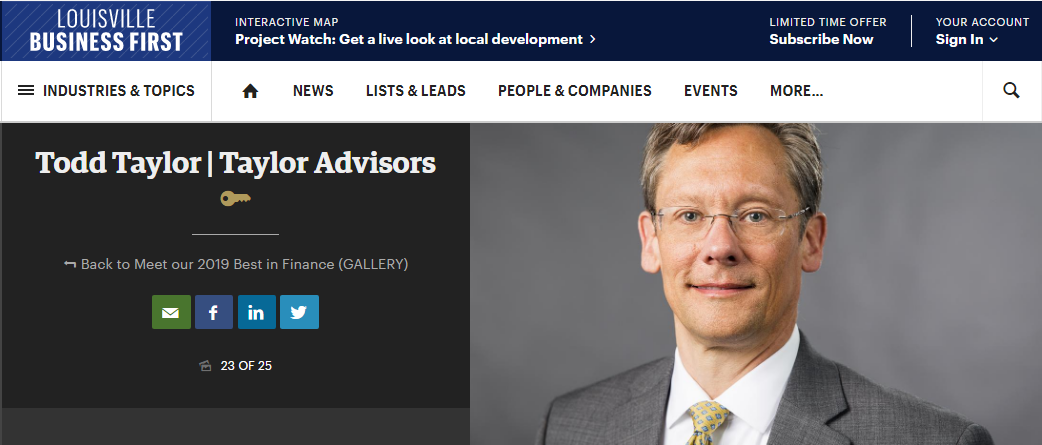 Todd Taylor
Founder and President, Taylor Advisors
Years in current position: 17
Years in financial industry: 30+
What motivates you? I am a big fan of people who work hard and smart to create their own path. I realized shortly after graduating college that I was responsible to define my own path in life. The motivation came from my father who went away to military school at an early age due to my grandfather's illness. My father later served in the Navy and raised us in a strict manner. To this day, I try to emulate his incredible work ethic.
What's one simple thing most companies can do to improve their financial position? I think one useful tip that helped Taylor Advisors was creating a concise (one-page) financial dashboard of our company's performance, including industry-specific metrics and trends. It should contain both financial and nonfinancial information to be reviewed either daily, weekly or monthly, depending on the company/industry. Timeliness of this information and how quickly the leadership team evaluates it will help your company stay ahead of the curve.
What is the greatest challenge you face as a financial executive? Financial executives have to develop and maintain a forward-looking approach. We can all become dinosaurs before our very own eyes. Therefore, thinking strategically and focusing on how to grow and support change in your organization is a never-ending process. Services, staffing, software, systems, processes and tools need to be constantly tweaked, reinvented or scrapped. We all need to look back, debrief and recalibrate. Ask ourselves "Is this working or not"?
Tell us something about you that would surprise our readers? My great-grandfather started the locally owned Taylor Trunk Co. here in Louisville in the 1800s. Also, I have run several marathons, including the 100th running of the Boston Marathon. Even though I am a retired runner, I am often seen riding my bike either early in the morning before work or at the Parklands of Floyds Fork on the weekends.
How do you see artificial intelligence changing your field? There is an emergence of robo-advisers and fintech companies that leverage technology to deliver financial services. While some models make economic sense in certain sectors of the industry, Taylor Advisors is a big believer in personal approach, education and transparency when working with our clients to help them solve challenges and take advantage of opportunities.
What advice do you like to share with young people entering your industry? Internships (formal or informal) are of tremendous value for both young people and companies. These individuals may have a preconceived notion about wanting to go into an industry and/or pursue a particular major only to find out they did not like it or had did not have the aptitude for it. For example, you want to be a doctor because you have performed well academically in school but then you find out you can't stand the sight of blood. Try to get exposure to several different industries/companies in high school (if possible) and college as early as possible. Then you will have plenty of time to reset and change directions.
What was your biggest accomplishment of 2018? Hiring the right professionals and creating a team culture is directly correlated with Taylor Advisors' success. We are patient in hiring the right individual(s) that fits our core values and has the ability to solve complex problems for our clients. Secondly, we historically have worked exclusively with financial institutions. During 2018, our company also started a separately managed account platform for high net worth individuals, corporations, and nonprofits specializing in fixed income (enhanced cash and municipal bond strategies). This has been an exciting development for the company as we begin serving a wider audience and developing new relationships.
Original Article: Biz Journals: Best in Finance 2019 – Todd Taylor